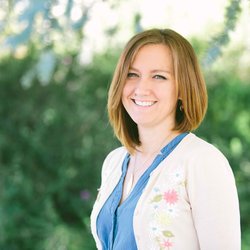 Recently, I had the wonderful opportunity to be interviewed by Stephanie Risinger (photo above), licensed Marriage and Family Therapist, holistic wellness advocate, and entrepreneur.  Stephanie's passion lies in helping others, especially women.  On that note, Stephanie created The Holistic Fertility and Wellness Podcast, a source of information and support for women experiencing fertility challenges.  Stephanie started The Holistic Fertility and Wellness Podcast after experiencing several years of infertility herself.  Through her own experiences, Stephanie saw firsthand how challenging it was to obtain the information and answers she sought.  After much work, effort, and research, Stephanie has learned a vast amount of knowledge about this delicate topic.  She utilizes her Podcast as a forum to share that knowledge with others.
Every week, Stephanie hosts a half hour show that features various healthcare providers as well as women who have succeeded in their fertility journeys.  Subjects range from hormones and anatomy to nutrition and yoga. I had the wonderful opportunity to speak about pelvic floor health with Stephanie on her show.
As far as interviewing, Stephanie's skills are top notch. She asked wonderful and insightful questions which allowed me to share information about a wide variety of topics. Some of those topics included pelvic floor anatomy basics, the roles of the pelvic floor muscles, the difference between overactive and underactive pelvic floor dysfunction, the connection between pelvic floor dysfunction and intimacy issues, and the mind-body connection.
To hear the show, please click here. For the link to the iTunes show, click here.
I look forward to hearing your feedback about the show!  I always appreciate the opportunity to educate others about pelvic floor health, and I want to thank Stephanie for this wonderful experience.  Furthermore, the fact that Stephanie has been sensitized by her personal challenging experience and turned it into an opportunity to help others is highly commendable and inspirational.  We are all grateful to you, keep up the fantastic work!