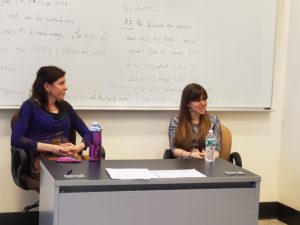 This past Tuesday, I had the opportunity to participate in an allied healthcare professionals panel at Lander College for Women. The panel was created by Sarri Singer, Director of Office of Career Services and Dahlia Bellows, Assistant Director of Career Services. I spoke alongside Laurie Lasher Scherzer, a pediatric occupational therapist. We each provided a general introduction about our respective fields followed by a Q and A style session.
The purpose of the panel was to share information with the students about physical therapy and occupational therapy. Many of the undergraduate students present are in the process of selecting a major and thinking ahead towards graduate school. This is a crucial junction that I recall being extremely stressful for me years ago. Having as much information as possible will hopefully enable the students to proceed forward in an intelligent and appropriate fashion, which is why I was excited to participate in the conversation.
Topics addressed included why we decided to pursue our chosen careers, how to pursue an internship, pre-requisites required for graduate school, information about graduate schools, and job opportunities that exist for the two professions. I shared my passion for physical therapy, especially pelvic floor physical therapy. I also described the challenges I faced as an undergraduate student who felt lost and confused for most of my college career. I told them that my stress levels would rise anytime someone would ask me the very typical question, "What major and career will you pursue?" The truth was that I envisioned myself enjoying many different medical care professions, therefore I found it difficult to commit to one. Which one would I enjoy the most? Which would be most appropriate for me? These questions bothered me for years. Fortunately, after many conversations with people older and wiser, I decided that physical therapy seemed like a logical fit for me. (Little did I know just how perfect it was, and I am so grateful to have found my calling!)
I encouraged those in attendance to take as much time as they needed to explore all potential options, to shadow professionals in their potential future careers (even if for only a day), and to interview people in the various professions they are entertaining to gather as much information as possible.  My final point was one of encouragement to the students- while it might seem that many others seem to have their career path figured out whereas they may be confused about the next step to take, there is still hope that they will find their passion and clarity.
Paying it forward is always a gratifying and meaningful experience. Personally, I am extremely grateful to the mentors and role models who shared valuable information with me and answered my many questions along my journey to becoming a pelvic floor physical therapist. I hope I was able to help the students at Touro College for Women along their unique paths.