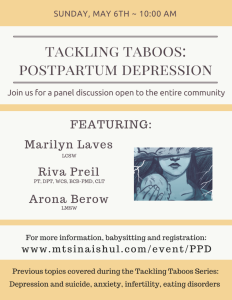 I am excited to share that this coming weekend, I will be speaking on a panel which will be addressing the physical and psychological components of postpartum depression.
This event is part of a series at my synagogue, Mount Sinai Jewish Center in Washington Heights, started by Rachel Waldman, Yoni Teitz, and Jason Strauss.  The title of this series is Smashing Silence and Tackling Tattoos, and it is dedicated to addressing important and challenging topics.  Previous topics have included depression, infertility, and eating disorders.
Many women who experience postpartum depression feel isolated and alone.  They don't know where to turn, and they are often embarrassed to discuss their symptoms with their friends, family members, and doctors.  We need to start having open conversations about these uncomfortable topics.  Discussion raises awareness which allows women in need to get the help that they deserve.
It as an honor to be speaking on the panel alongside two incredible women.  Marilyn Laves is a clinical social worker who specializes in postpartum depression, and she has an expertise in perinatal mood and anxiety disorders and addictions.  Arona Berow is a courageous friend and community member who will share her personal postpartum story.  I give her much credit for opening herself to benefit the greater good, and I would like to express gratitude on behalf of the many women (and men) who will gain knowledge and perspective thanks to her.
I invite you to join this important conversation, Sunday, May 6 at 10 AM at Mount Sinai Jewish Center. We look forward to seeing you there!
Link to event: https://www.mtsinaishul.com/event/PPD